Psi Chapter History - 1950-1964
Home at 210
Theta Chi • 1915-1916 • 1917-1937 • 1941-1949 • 1950-1964 • 1965-1984 • 1985-2005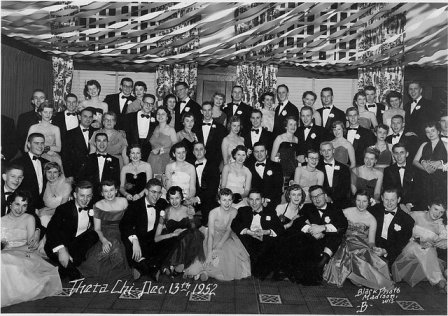 Theta Chi winter formal 1952. These are only half of the attendees.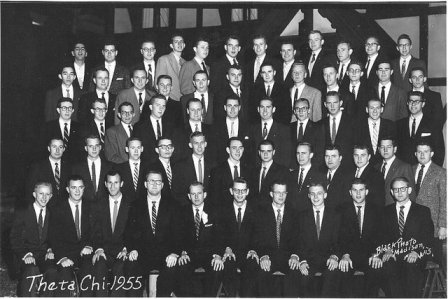 In front of the house, 1955.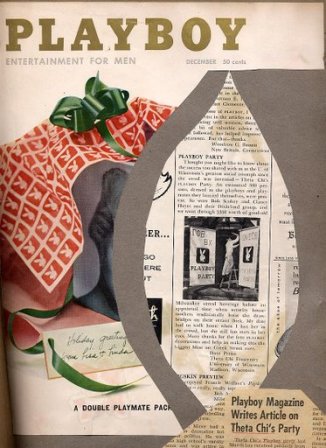 Theta Chi's Playboy Party in March 1957 was good enough to be written up in Playboy itself.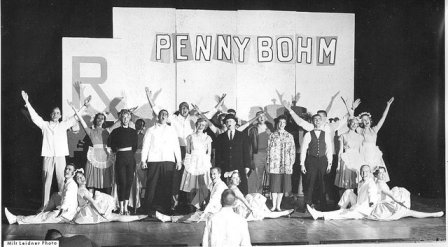 Theta Chi and Alpha Chi Omega sorority take first overall in the university's 13th annual Humorology show in 1959 with their act "Grounds for Percussion".
During the 1950s, Psi Chapter once again faced grim prospects, although this time through no fault of its own. The University of Wisconsin, which still administered the Greek system, decreed in 1952 that all U.W. fraternities and sororities must admit members regardless of their race by 1960 or face expulsion from the Greek system. Psi Chapter was in a quandary; its admission practices had always been liberal, and the chapter roll as far back as the 1920s included Jewish, Latino, and foreign-born members, who would have been prohibited by many other houses. Yet the Theta Chi national constitution limited membership to whites only.13 So it became Psi Chapter's mission to open Theta Chi Fraternity to men of all races. After sending delegations to several other chapters promoting this idea, the campaign ended in 1957 when by active chapter mail vote, the whites-only clause was repealed from the national constitution.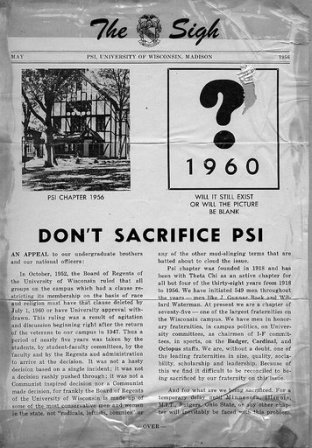 Beginning in 1952, Psi Chapter lead a national campaign to open Theta Chi membership to men of all races.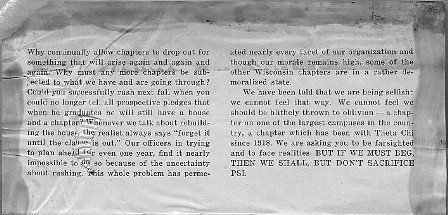 Victory was achieved by a petition and mail vote of active chapters in 1957.
1960-61. (Photo courtesy of University of Wisconsin Archives.)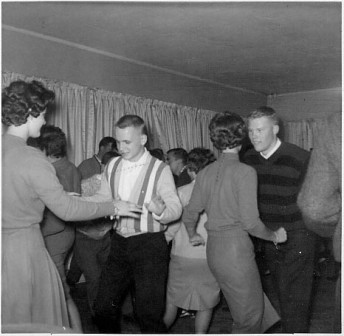 Dancing in 1961.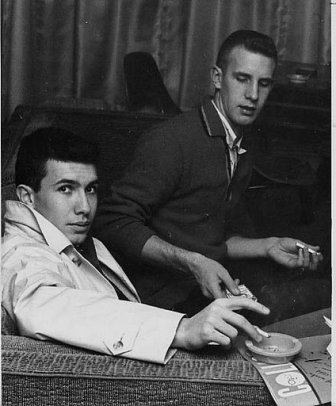 Too cool for school, 1961. (Photo courtesy of University of Wisconsin Archives.)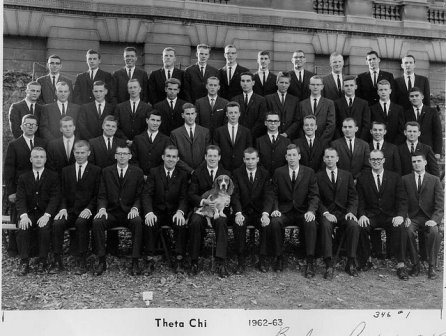 1962-63, with house mascot "Psi" (Photo courtesy of University of Wisconsin Archives.)
With the satisfaction of the property's original mortgage in 1963, Psi Chapter launched ambitious plans under Dale Jennerjohn ('44) of Rattle and chapter president Ted Pamperin ('64) to demolish the house and build a two-story brick building with a side entrance and a chalet-style front. But those plans were gradually scaled down when a sufficient loan could not be floated for the construction, and eventually the old structure was kept and a front addition was built in the summer of 1964, adding a basement kitchen, dining room, and bar, and a second-floor living room. The living room, parlor, and dining room of the old house were converted into first-floor bedrooms, and the old basement barroom became a cooler room.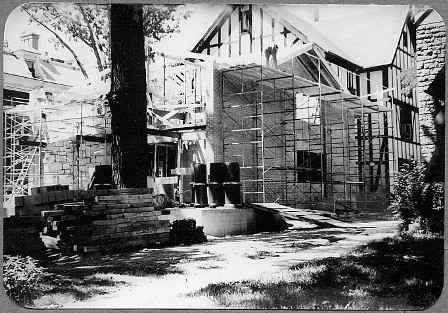 Constructing the two-story "ski lodge" front addition in 1964.
---