Psi Chapter History - 1941-1959
Rebirth, War and Post-War
Theta Chi • 1915-1916 • 1917-1937 • 1941-1949 • 1950-1964 • 1965-1984 • 1985-2005

Psi member Oscar William Berssenbrugge (x-'41), who had attended the University on and off from 1934, returned to school in the fall of 1938 after a two year absence only to find the house had been rented to others, the Grand Chapter had withdrawn the charter in the fall of 1937, and the number of active members had dwindled to three including himself. Dismayed, he contacted the Grand Chapter, the Milwaukee Alumni Chapter, and other alumni, and began a program to return Theta Chi to campus. In November, 1940, thirteen students pledge Theta Chi. Thereafter, they met weekly at the Memorial Union until May 3, 1941, when Psi Chapter was formally reinstalled in a ceremony at the Madison Club, and the men were initiated as members by a reinstallation committee composed of various Theta Chi alumni from several chapters.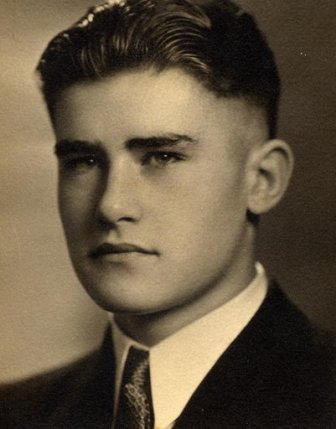 O. William "Bill" Berssenbrugge (Psi '41) single-handedly revived Psi Chapter in 1940-1941 after it became inactive in 1937. High school senior portrait ca. 1934.
A new corporation, Psi Chapter of Theta Chi, was incorporated on May 9, 1941. It continues to this day to be the legal entity through which the active chapter operates.11 One of its first activities was to rent a house at 223 W. Gilman St., which the chapter occupied for the 1941–42 school year. The fraternity was without a house during the 1942–43 year.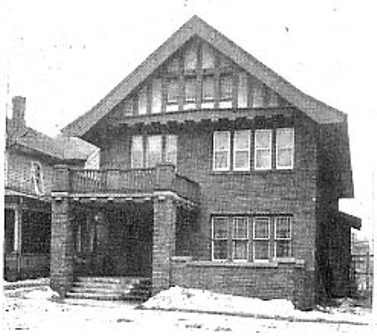 The newly reinstalled chapter rented 223 W. Gilman St. in 1941-42. But war depleted the active membership enough that no house was rented 1942-43.
That the newly revived Psi Chapter survived under wartime conditions was nothing short of remarkable, at a time when only 29 of Theta Chi's 71 undergraduate chapters were functioning. Several factors contributed to this. Nationally, Beta Kappa Fraternity merged with Theta Chi in 1942; locally, it had existed from 1926 to 1931, and those members now became alumni loyal to Theta Chi's upkeep, including U.W. Registrar Curtis Merriman. Also, the members rushed primarily engineers, who were allowed to skirt Selective Service directives and live outside the campus' military barracks. In January-March 1943 alone, Psi Chapter initiated 26 men.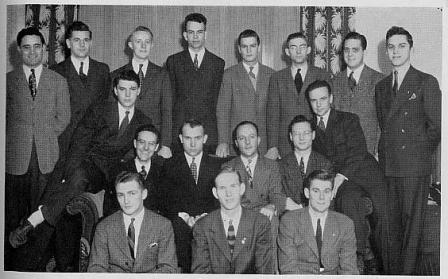 The chapter at 223 W. Gilman St. in 1941-42.
With this success, the fraternity began leasing a larger house at 619 N. Lake St. in July 1943.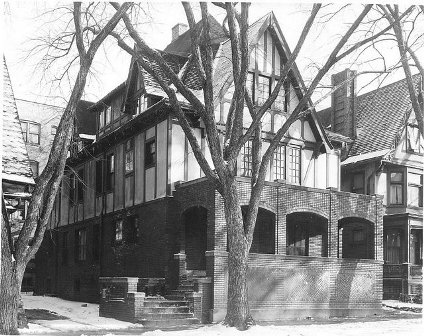 Wartime rental for Theta Chi at 619 N. Lake St.
It was while occupying this house that Psi Chapter received the most negative publicity in its history as the result of a hazing incident. As the Nov. 6, 1944, Time magazine covered it:
He got his still-painful leg injury and honorable discharge after two years in the European Theater. Quentin F. Soik, 22, of Milwaukee, veteran staff sergeant of the Army Air Forces, enrolled at the University of Wisconsin as a pre-law student last summer. He was pledged to Theta Chi fraternity.
By Mid-October, Pledge Soik was thoroughly fed up with "assuming the position" to be paddled, with being waked up at 3 a.m. for more of the same, with begin especially singled out for hazing because he laughed at upperclassmen's high jinks as juvenile mumbo-jumbo. He turned in his pledge pin, asked Dean Scott Goodnight for assignment to a dormitory room. The Dean questioned him closely, found that his fraternity elders had not only paddled him 27 times, but had made him bake himself at the fraternity hearth.
Last week Dean Goodnight announced that he had written to Theta Chi's National President Frederick W. Ladue, demanding that the Wisconsin chapter's charter be revoked.
The charter was indeed revoked by the Grand Chapter in November 1944, and not returned until August 1945. During this time, however, the house was still occupied and the members met and conducted business as any other campus fraternity.
Most of the active members and eligible alumni served their country during World War II, including Maj. Gen. Stanley E. Reinhart ('16), Commanding General of the 65th Infantry Division in the final months of the war in Europe, and Col. Franklin W. Clarke ('29), Commandant of the University of Wisconsin ROTC. At least five members of Psi Chapter gave their lives in service, including most sadly Bill Berssenbrugge, who became missing in action as a Navy Air Corps pilot in the South Pacific in 1942.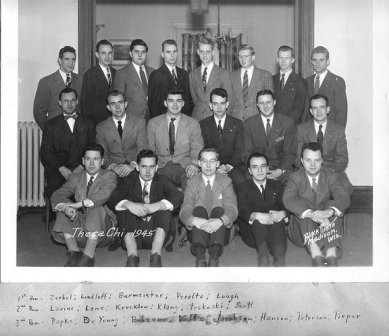 Psi Chapter in 1945.
With the war over and a great influx of male students on, a large house was needed. For the purchase of a two-story frame house at 708 Langdon St. a new building corporation was incorporated on April 17, 1946, and named Rattle Building Corporation after the national alumni magazine, The Rattle of Theta Chi. The non-stock, not-for-profit corporation continues to this day to own the chapter house, lot, and furnishings. All active and alumni members of Psi Chapter are voting members of the corporation, and elect its board of directors annually at Homecoming. The president of Psi Chapter is ex officio a member of the board.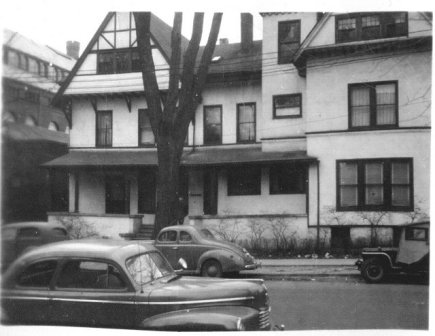 Rare photograph of the three-story house Theta Chi owned at 708 Langdon St., 1946-49. It was demolished to make way for the university's Wisconsin Center. The Red Gym can be seen at left.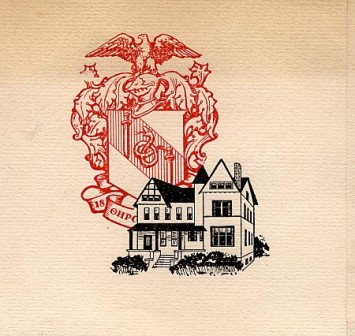 A drawing of 708 Langdon St. on a 1946 Christmas card.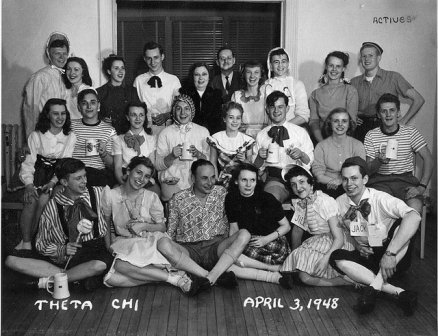 Oh grow up! Dress Like a Kid party at Theta Chi, 1948.
Unfortunately, the house, which Psi Chapter occupied from 1946 to 1949, stood on the site the University soon selected for the construction of the Wisconsin Center, and which it purchased through the state's right of eminent domain.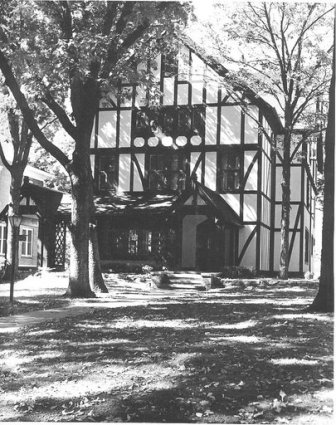 Theta Chi moved to this Tudor revival at 210 Langdon St. in 1949.
So, Psi Chapter again looked for a home and found one at 210 Langdon St., a three-story Tudor style house with a large front yard and back lot. It was originally built in 1875, as a modest two-story frame house with clapboard siding, to serve as a parsonage for the First Congregational Church of Madison, then six blocks away. Delta Sigma Phi Fraternity purchased it in 1921, and in 1927 the house was expanded by a story, and the exterior renovated to the Tudor revival style by local architect Frank Riley.12 When Delta Sigma Phi folded in 1932, Phi Sigma Sigma sorority took it over. In the late 1930s it became a men's rooming house, which it remained until Rattle entered a land contract for it in 1949, and Psi Chapter occupied it that fall. Final purchase was made in 1952.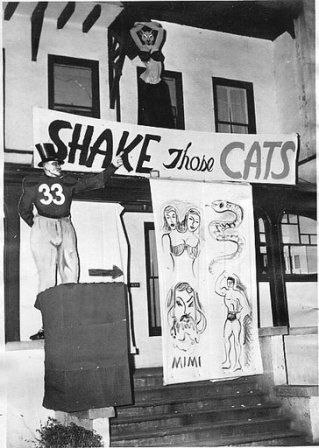 Homecoming 1948 banner at Theta Chi house, 708 Langdon St.
Toga! "Night Life of the Gods" party, Oct. 1949. Dick "Bacchus" Falck ('50) is your bartender.